The National Museum of Photography in Brescia tells the story
of photography and cinema through photographic and cinematographic equipment, from the first experiments to the present day. In 1953 the Cinefotoclub was born, the association of passionate photographers and in the 1980s the idea of ​​the Museum came to life as a public exhibition of the material collected over the years.
The Museum is divided into sections:
- room dedicated to the cinema, where important pieces are exhibited that tell the evolution of cinema for amateurs, from the first attempts to make filming within everyone's reach with the Pathè Baby projector from 1921 which supported the 9.5 mm film and the following camera that carries the same name as it was in 1923, with a manageable and easily usable format, to go to the historical cameras of Bell & Howell, of Bolex Paillard, to arrive at the most recent Japanese. This room houses the two cameras used by NASA for scientific and technological studies. camera room

- showcases of the history of photography: starting from the ancestors of photography, from the sixteenth-century darkroom, to move to the silhouette and physionotrace in the 1700s, arriving at a copy of the first photograph of the world in 1826, the birth of photography is illustrated, which begins to spread with the invention of Daguerre in 1839. In the showcases you can admire original pieces of daguerreotypes, ambrotypes, ferrotypes that represent positives with a single copy, a rare miniuature dorée, plates autocromie of the Lumière Brothers and albums that collect beautiful cartes de visite.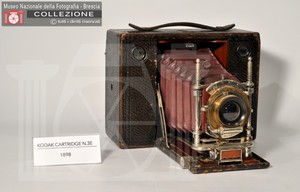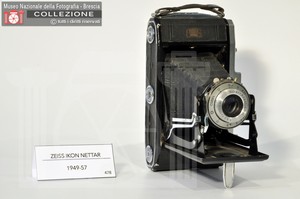 - camera room: the machines are collected in the shop windows according to the manufacturer: Leica, Zeiss Ikon, Kodak, Agfa, Bencini and Ferrania ... In this room there is a beautiful French wooden device from the end of the 19th century which mounts 55x55 cm slabs and the showcase dedicated to stereoscopic photography, the ancestor of our 3D camera


-sala of the photographic technique: here we find a piece of pride for the Museum, the Zeiss Ikon photo-camera of 1930, and we find all that is needed during the shooting (exposure meters, flashes, lenses, filters, flexible shots ...) and in development and printing phase.
The Museum has two exhibition rooms where each month there are exhibitions of national and international authors. Since 2013 the exhibition in the drawer has also been created, an exhibition space that houses and makes available to the public some photographs preserved in the huge archive of the Museum (about 60,000 pieces).
The photo-film library has around 8,000 volumes entirely of photography and cinematography.
Every year the Museum organizes the following National Photo Competitions (in addition to the weekly and monthly photographic courses):
- National Competition San Faustino Patron of Brescia
- 1000 Miglia National Competition
- National Competition of Artistic Photography "Premio Brescia"
Entrance to the Museum is free.
{itpsharepoint}